Netflix's K-drama slate has been going strong for months following the phenomenal success of Squid Game, with Business Proposal, one of the streamer's latest new Korean series, taking the lead.
The Korean romantic comedy's latest no. 1 ranking on Netflix's non-English television global ranking was from late March to early April, with four of the top five that week all being the latest new K-dramas. The show has been in Netflix's top 10 global ranking for the past five weeks since it premiered at the end of February.
Last week, the show ranked second among the top television shows on Netflix worldwide, topped only by Bridgerton, according to FlixPatrol.
Breaking beyond the typical sci-fi/horror genres that have often drawn audiences to Korean content (such as All of Us Are Dead, Kingdom and Hellbound), Business Proposal is the one of the first Korean rom-com series to achieve such high rankings since Squid Game.
Based on a Korean webtoon of the same name, the series sees an unexpected romance unfold after Ha-ri (played by Kim Se-jeong from the Netflix hit The Uncanny Counter) agrees to help her best friend avoid a blind date set up by her family.
Pretending to be her friend, Ha-ri attends the date and pulls some crazy, laugh-out-loud stunts in a bid to deter the suitor (Tae-mu, played by Ahn Hyo-seop from Netflix's Abyss and Dr. Romantic). But things get complicated as Ha-ri realizes that her surprisingly handsome blind date is actually the CEO of the company at which she works.
If you've been addicted to Business Proposal, below are some other K-dramas to binge-watch to get your fix of heart-warming romances peppered with clever banter and explosive comical moments.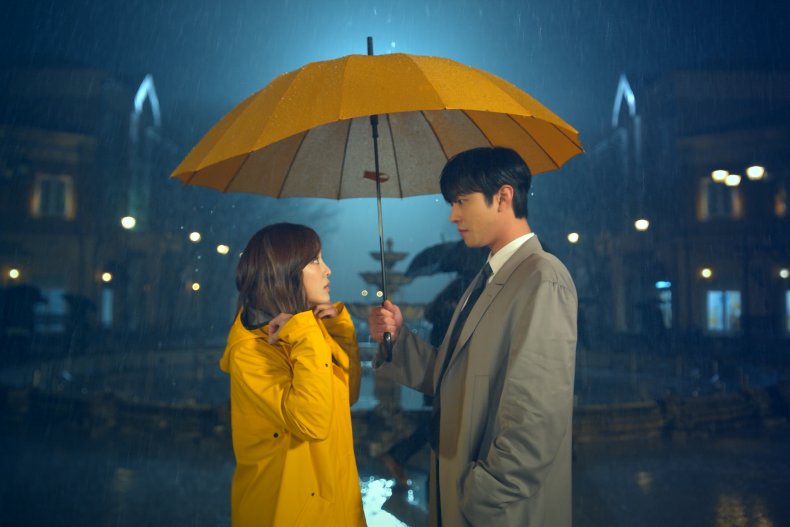 1. Crashing Landing on You
The daughter of a wealthy "chaebol" (a Korean family conglomerate) and head of a luxury beauty brand, played by Son Ye-jin, finds herself in unexpected territory in Crash Landing on You on Netflix.
A paragliding experiment gone wrong lands her across the border in North Korea, where she runs into the captain of a North Korean army unit (played by Hyun Bin). The soldier discovers her stranded on a tree and the pair fall in love as he risks his life to smuggle her back to South Korea.
Contrary to the heavy backdrop of the storyline, the series is full of comical interactions amongst a colorful cast of characters, including some major cameos (actor Kim Soo-hyun and actress Choi Ji-woo) and the charming North Korean soldiers and villagers who steal the show.
Son and Hyun's K-drama love story came true in real life as the pair tied the knot in a private wedding ceremony on March 31, 2022.

2. Descendants of the Sun
Starring two of the country's biggest Korean actors, Descendants of the Sun (available on Netflix) sees the captain of a South Korean special forces unit (Song Joong-ki, who starred most recently in the streamer's hit K-drama Vincenzo) fall for a surgeon (played by Song Hye-kyo) following a chance meeting at a hospital and later at a military base abroad.
Full of cute and witty banter, sweet interactions and dramatic twists, the series will keep you glued to the screen, smiling in one moment and tearing up in another.
Following the series, the on-screen "Song-Song couple" (as previously dubbed in Korean media) also formed a real-life romance, tying the knot back in 2017 in another one of the country's most highly anticipated Korean celebrity weddings. However, the pair have since parted ways after filing for divorce back in 2019.

3. Itaewon Class
A heart-breaking tale of unrequited love, shattered dreams and new beginnings unfolds against a backdrop of sudden tragedy and a quest for revenge in Itaewon Class on Netflix.
The series stars Park Seo-joon (the Parasite actor who will be starring in the upcoming Captain Marvel sequel The Marvels alongside Brie Larson, Samuel L. Jackson and others) as a high school student whose father is killed in a hit-and-run car accident that's covered up by the powers that be.
Years later, he plans the ultimate revenge against those responsible for the cover-up with the help of several friends he meets along the way, including a sassy social media influencer with a clever business brain (played by Kim Da-mi) who falls hopelessly in love with him.

4. Our Beloved Summer
Parasite actor Choi Woo-shik (who played a tutor to the daughter of the wealthy Park family in the Oscar-winning film) and Itaewon Class' Kim Da-mi play former lovers whose paths are forced to cross again for the filming of a documentary series in Netflix's Our Beloved Summer.
A decade after their dramatic and painful breakup, the pair are made to revisit their unresolved feelings in a docuseries that traces the progression of their lives since high school where they first met one summer.
Featuring several comical displays of mutual disdain, coupled with moments of undeniable remaining attraction for each other, the rom-com will leave you craving more than just a summer fling.

5. Encounter
A slight twist on the plot for Business Proposal, Encounter (available on Netflix) also sees the head of a major company (played by Song Hye-kyo from Descendents of the Sun) fall for an employee of the hotel group (played by Park Bo-gum, the major Korean actor from various K-dramas and film) in an unlikely office romance.
The pair first cross paths during the hotel head's work trip to Cuba, where she is left penniless one day after her bag is stolen while there. She is helped by a charming, bohemian style Korean man she encounters by chance while wandering through town.
But after parting ways for good following an unforgettable evening out in Cuba, back in their homeland, the pair are shocked to lock eyes again at the orientation ceremony for the hotel's new employees.

6. Romance Is a Bonus Book
More office drama unfolds in this Netflix K-drama set at a trendy book publishing house where a former high-flying advertising copywriter (played by famed actress Lee Na-young, who is married to major Korean actor Won Bin from the Bong Joon-ho film Mother) attempts to relaunch her career by working from the bottom-up. She inadvertently lands an intern level role at the publishing company where her male best friend (played by Lee Jong-suk) is the editor-in-chief.
Viewers also get to see a irresistibly charming side to Squid Game actor Wi Ha-jun (who played the policeman in the runaway hit Netflix drama) as a dashing book designer who falls hard for Lee's character.

7. Record of Youth
This stylish Netflix K-drama documents the intoxicating and bittersweet moments of budding relationships, missed connections/opportunities and chasing dreams.
Record of Youth follows the lives of a young makeup artist (played by Parasite actor Park So-dam, who played Jessica, the art therapist hired by the wealthy Park family) and her biggest celebrity crush—a fashion model from a humble, working class family trying to break into acting (played by Encounter's Park Bo-gum).
The pair grow closer after meeting behind stage at a fashion runway show where the makeup artist gets assigned to style the model and his childhood best friend (played by Byeon Woo-seok)—another famed fashion model-turned-actor who's had more success, owing to his family's wealthy background helping to pull a few strings. A love triangle later ensues as the best friend finds himself also drawn to the makeup artist.
link