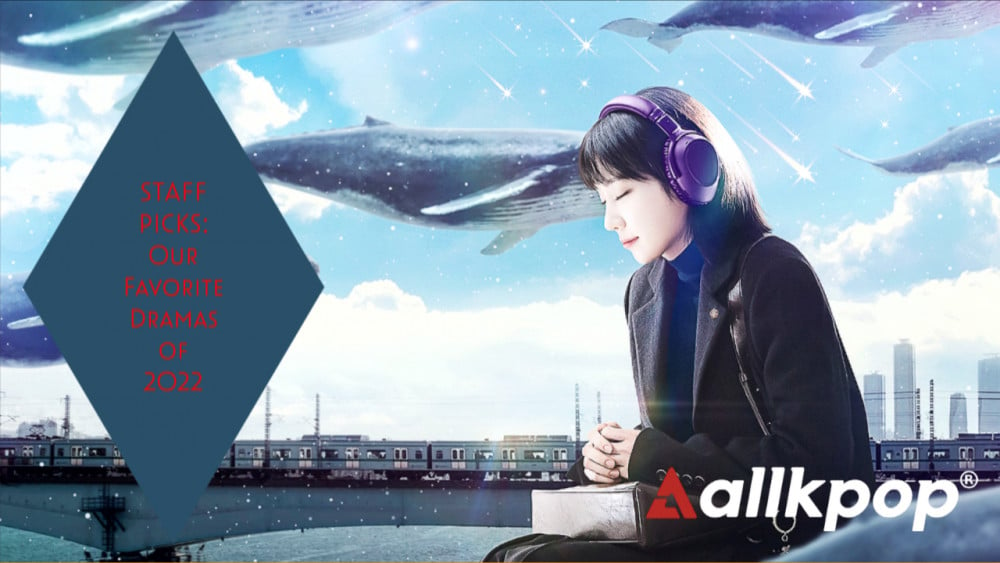 2022 was another year filled with amazing K-drama releases. Out of the countless Korean dramas that came our way this year, here are the favorites that the allkpop staff loved the most!
MaiaD's Pick: Cleaning Up
"Cleaning Up" is a remake of the 2019 British series of the same name, but gave a different flavor, especially with the excellent acting of their powerful actress trio, Yum Jung Ah, Jeon So Min, and Kim Jae Hwa. The drama may be underrated, but it has showcased an amazing story of a mother who is willing to do anything for her family, a kind dreamer who remained loyal to her friends, and a fierce protector despite experiencing struggles. The romantic ships are also to look out for, particularly with how Na In Woo's character will surely steal your heart.
Lorr-Ye's Pick: Alchemy of Souls
Alchemy of Souls deals with mages, a type of drama I don't typically go for but found myself enjoying in my off-time nevertheless. Alchemy of Souls is engaging, and I felt that its mystical and fantasy elements were well-presented. The drama is satisfying in plot and intriguing enough to keep my attention. This drama is my must-recommend of the year for its stellar cast and fascinating storyline overall!
ean1994's Pick: A Business Proposal
Even though this wasn't a long drama, it was the perfect light-hearted, comedic drama. Very rarely do I come across a drama where I like all the characters, but this drama aced every single character from the main leads, second leads, and even supporting characters! It's a drama that I still watch over and over again and never get bored of!
Rika-go's Pick: Twenty Five Twenty One
I pick Twenty-Five Twenty-One because it gave us a glimpse of life in one of my favorite decades, the 1990s. The Drama makes people interested in both journalism and fencing.
Yaki-Jones pick: Juvenile Justice
Stunning acting performances of the leading actress and other casts on the show and the well-written plot will have you hooked after the first episode. I loved how this series was written in a way that successfully teases out social issues without getting too cheesy or objectifying victims. It was also refreshing to see a drama series that doesn't revolve around love and romance, which is in itself quite rare in K-dramas. I'm glad Netflix is working on the second season of Juvenile Justice. If this sounds interesting enough to you, I highly recommend streaming this series before the second season comes out.
optimusnins pick: Under The Queen's Umbrella
Unlike most period dramas, this one was fresh of breath air. More than a typical dirty-scheming-fight-for-the-throne, this drama is actually about motherly love. The queen, who is often depicted as one of the evil ones with dirty tactics, is actually quite the opposite. Kim Hye Soo, who plays the queen, displays the intelligence, elegance, and warmth of a mother's love, giving everything to protect those around her without any of the dirty tricks. She is truly a queen.
Yeom-My's Pick: Twenty Five, Twenty One
I kinda got the Reply series vibes with this drama. It's actually one of the only dramas I watched this year, but it was really a great melo-series that made you reminisce of the simpler times, and you'll get excited about the possible romance, and it just felt like the high school days all over again.
Germaine-Jay's Pick: Extraordinary Attorney Woo
This is a groundbreaking drama, but aside from that, 'Extraordinary Attorney Woo' is just entertaining, different, and well done. You get a feel-good, heart-warming storyline with high production value, but then you're suddenly hit with something very dark and heavily realistic from time to time. A legal drama following an autistic lawyer is not a premise you see often, and it's worth a watch.
Sophie-Ha's Pick: A Business Proposal
This drama is the perfect romantic comedy that translated well into a drama series from a popular Webtoon. Actress Kim Se Jung's acting was the best yet and depicted the character of Shin Ha Ri so perfectly. This was the first romantic comedy K-drama I've enjoyed in a while.
Jia-Lin's Pick: A Business Proposal
I haven't watched that many dramas this year, but "Business Proposal" was one that I thought lived up to its hype–especially in the first few episodes (as-is with all Korean dramas). It's a light romcom with a good amount of memes that came out of it, such as Yoojung's Konglish, which still makes me laugh when I think about it: "I have no Chingu!" Nothing not to love about this drama!
A-Nish's Pick: All of Us Are Dead
The drama was shocking, scary, and just gave me a pure adrenaline rush. While some deaths were predictable, the show still managed to shock me at most times. The cast was terrific, with negative characters making me go crazy, hating them, and the good ones making me pray for their safety. Can't describe how much I loved this show. Sadly, it was so good I binged it all in one night.
Sofia-Sayson's Pick: Twenty Five Twenty One
Loved how this coming-of-age K-drama brings in a nostalgic feeling and heartwarming vibes. 'Twenty-Five Twenty-One' is one of the best Korean dramas released this year. I fell in love with the plot, the storyline, the characters, and how good the soundtracks are. Frankly, the drama's soundtracks are among my all-time favorite tunes from this year. Everything about this drama is just perfect. I loved how the actors and actresses delivered their roles so well. It triggered a range of emotions in me, including laughter and tears. In just 16 episodes, 'Twenty-Five Twenty-One' covers a lot of content. It was a genuine homage to the glimmering days of youth, and I enjoyed how much of it I could relate to and how good, therapeutic, and rejuvenating it was. I also wanted to highlight how much I like the 90s-inspired introduction to the episodes, with Seventeen DK'a "Go!" playing.
Dani-Dee's pick: Rookie Cops (Disney+)
When it comes to Korean dramas, I am a big fan of both seasons of 'Age of Youth,' 'My ID is Gangnam Beauty,' and other relatable stories centered around the friendships (and romances!) of college students during this formative time of their lives. Match that energy with the story of young cops-in-training working together to unravel a case of corruption within their own academy, and you have 'Rookie Cops,' Disney+'s very first original Korean drama starring Kang Daniel and Chae Soo Bin. The drama is a perfect balance of suspense and slice-of-life, incorporating comedy and romance in a way where the drama can simultaneously have that 'healing' feeling while also keeping you on the edge of your seat. (Also, fans of Kang Daniel not only get to see him act for the very first time but also get to hear his own OST single, "Hush Hush," in the drama itself! It's a Danity must-watch.)
jieun-im's Pick: Little Women
If you haven't watched 'Little Women' on Netflix, please do yourself a favor and watch through the whole series when you have the time. Loosely based on the 1868 novel Little Women by Louisa May Alcott, 'Little Women' is a story about three poor sisters and how their lives are overturned when they get involved in a case that deals with a lot of money- so much money to the point that they find themselves having to fight against South Korea's most rich and powerful individuals. 'Little Women' was definitely a game-changer in the world of Korean dramas – not to mention the outstanding acting performance of actress Kim Go Eun. Notably, the writer seemed to have developed each character by focusing primarily on their flaws, rather than creating the cliché "perfect" character that "saves the day". Yet, this was exactly what made the story possible. For example, In Joo (played by Kim Go Eun) is a character who regularly makes her greed for money quite transparent, and if she did not have this flaw, the progression of the story wouldn't have been possible. Holding necessary conversations about the severity of economic inequality, telling a heartfelt story of three sisters' struggles under poverty, and including a thrilling mystery plot that frequently left viewers on edge as the search for the missing 70 billion won went on, 'Little Women' truly deserves it all as the best drama of the year in 2022.
Paul's Pick: Reborn Rich
Well, to be honest, I only watched two K-dramas in 2022, so it was between this and 'Extraordinary Attorney Woo.' Both dramas started off strong, but unfortunately, they both lost steam toward the end. The two dramas also had extraordinary acting by two actors (Park Eun Bin as Woo Young Woo and Lee Jung Min as Jin Yang Cheol). The main difference was the storyline for 'Reborn Rich' seemed a bit more interesting, and it also had better supporting characters, so that's why I chose 'Reborn Rich' as my favorite K-drama of 2022.

link