FLIGHTS AND CHIPS:


Tourism and business exchanges can be enhanced by 'knocking on doors,' the representative said, as a tech scholarship looks to lure Czech students

Pushing for direct flights between Prague and Taipei and having National Palace Museum artifacts exhibited in the Czech Republic are among the top priorities for the Central European nation's new envoy to Taiwan as he begins his tenure.

Czech Representative to Taiwan David Steinke said he would do his best to enhance bilateral relations on all fronts, in particular in pushing for direct return flights.

As people resume overseas travel as restrictions related to the COVID-19 pandemic continue to ease, Steinke said he saw opportunities for in-person exchanges between Prague and Taipei.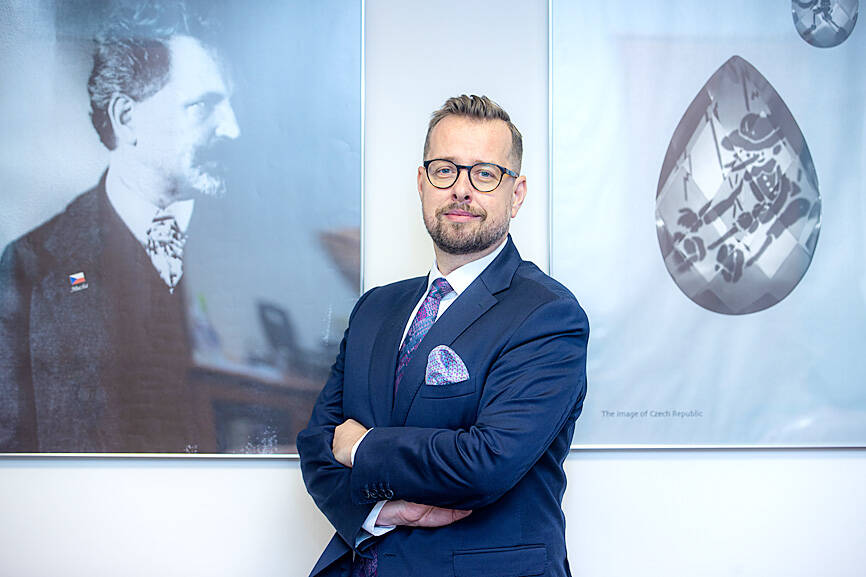 Photo: CNA
"There were almost 250,000 Taiwanese tourists coming annually to Czech Republic before COVID-19. and we would, of course, be very much interested in having those Taiwanese interested in the Czech Republic back," he said.
To improve tourist and business exchanges, direct flights between Taipei and Prague have been proposed for at least six years, he said.
"I would very much love to make this happen," he said.
As Czech Airlines does not have the capacity to operate long-haul flights, Steinke said he has been in talks with Taiwanese flagship carrier China Airlines, adding that he has also raised the proposal with local officials.
"I'm very patient, and I think I'll be knocking on doors," he said.
Minister of Transportation and Communications Wang Kwo-tsai (王國材) on Oct. 6 said China Airlines was considering adding direct flights to Prague, but no decision had been made.
Steinke also said he hopes that National Palace Museum artifacts could be exhibited in Prague sometime in 2024, and that both sides are in talks to make that a reality.
"Czech people like the richness of the Chinese culture, and the treasures of the National Palace Museum are just something that is absolutely stunning," he said.
The possibility of an exhibition in Prague was raised following the signing in September of an agreement for cooperation by the Taipei museum and the National Museum in Prague.
National Palace Museum director Wu Mi-cha (吳密察) said its artifacts and artworks could be exhibited in the Czech Republic sometime in 2024, once the latter adopts an anti-seizure law to ensure that items can safely be returned to Taiwan.
The museum was established in Beijing in 1925 before being relocated to Taipei. Its collection spans thousands of years of Chinese history.
Steinke assumed his role as head of the Czech representative office in September.
Before becoming the de facto Czech ambassador to Taiwan, he served as acting director of the Department of Asia and Pacific at the Czech Ministry of Foreign Affairs, dealing extensively with China and Taiwan affairs.
Despite a lack of formal diplomatic ties, Taiwan and the Czech Republic have maintained cordial relations since both sides opened representative offices in 1991 and 1993 in Prague and Taipei respectively.
Bilateral relations have warmed after Czech Senate President Milos Vystrcil visited the country in September 2020, making him the first head of a lawmaking body from a non-diplomatic ally to address the Legislative Yuan.
Steinke said that the bilateral friendship has been longstanding, and was renewed with Vystrcil's historic visit and the increase in cross-Taiwan Strait tensions in early August.
The tensions have helped convince the Czech Republic to find new ways of cooperation and new ways to support Taiwan's democratic institutions, Steinke said.
A new dimension for bilateral cooperation has also arisen as both sides have been staunch supporters of Ukraine since Russia invaded the country on Feb. 24, he added.
The Czech Republic is the largest host of Ukrainian refugees per capita, housing more than 400,000 displaced migrants, while Taiwan has made it clear since the Russian invasion that it supports the international democratic community, Steinke said.
Since arriving for the post in September, he has experienced Taiwanese friendliness whenever he told people that he is from the Czech Republic, he said.
"When I meet people here in Taiwan, and I tell them that I'm from the Czech Republic, there is a smile on their faces," he said.
Taiwanese know that the country is a friend of Taiwan, and that the positive sentiment is a "very important and robust base for further cooperation," he said.
He is also looking forward to cooperation on semiconductor trade, he said.
"The whole world, and all my fellow representatives here, are knocking at the door of TSMC," he said, referring to Taiwan Semiconductor Manufacturing Co.
The Taiwan Semiconductor Scholarship Program is an initiative that should help with cooperation in technology training and education. The program, which is aimed at Czech students who wish to study in Taiwan in fields relating to semiconductors, is accepting applications.
Steinke said his dream is to establish joint semiconductor research with Taiwan in the Czech Republic, in which Taiwanese experts can teach or provide lectures in his country's schools.
Steinke took his position after his predecessor, Patrick Rumlar, departed Taiwan in August after concluding a four-year assignment in Taipei.
Comments will be moderated. Keep comments relevant to the article. Remarks containing abusive and obscene language, personal attacks of any kind or promotion will be removed and the user banned. Final decision will be at the discretion of the Taipei Times.
link