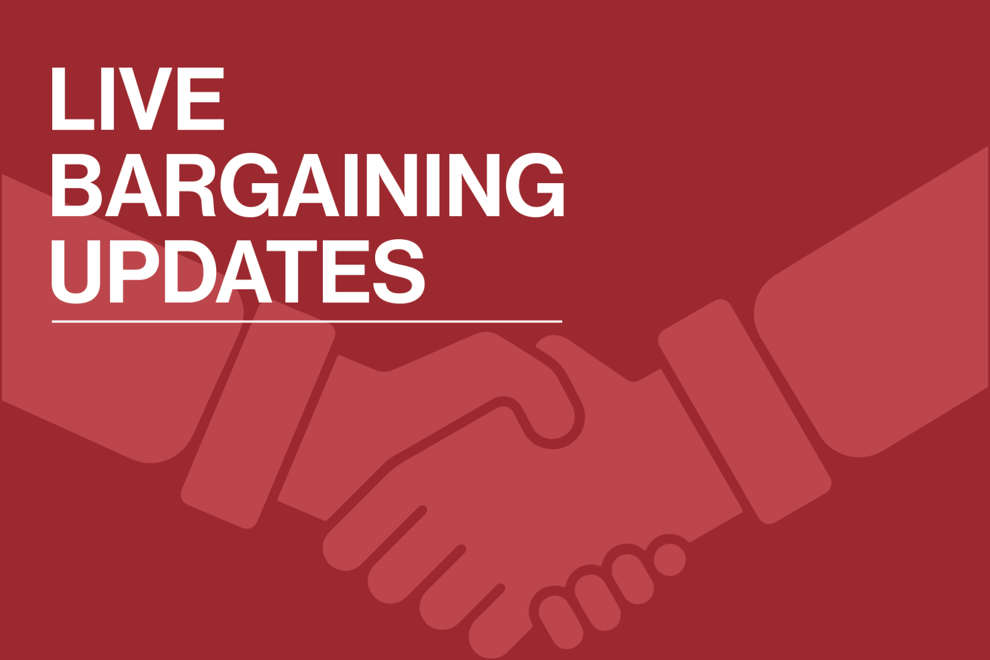 Live updates of a potential strike by Western faculty will be shared here as they happen.
The University of Western Ontario Faculty Association says they will go on strike Monday at 11:59 p.m. if they have not reached a deal for a new collective agreement with the university by then.
This means the union would set up picket lines and shut out classes starting Tuesday.
Western and the union have meetings booked to continue negotiating all-day Friday and Monday, according to UWOFA. UWOFA president Hiran Perinpanayagam has said negotiations have made "very little progress" recently. The last faculty bargaining cycle in 2018 was resolved at 2 a.m. the day a strike was set to begin. 
Western University has not commented on the details of negotiations but said it is optimistic that an agreement will be reached and a strike avoided. Western's faculty union has never gone on strike before.
Read more about what services would be open or closed in the event of a strike here.
---
UWOFA bargaining for shortened three-year agreement
Nov. 12, 6:58 p.m. 
The faculty union is bargaining for a shortened three-year-long collective agreement, a proposal the university is countering, according to UWOFA.
According to an email from UWOFA Faculty of Media and Information Studies representative Amanda Grzyb to members, the union is advocating for a three-year deal to "carry [it] through the Bill 124 period that restricts salary increases." Western faculty collective agreements usually last for four years.
Grzyb's email says the university still "wants a 4-year deal, but they are offering a very low salary increase (2.25%) in the 4th year." UWOFA's website says the university has also offered an additional "small one-time only lump sum for Full-Time Members" in the fourth year.
Bill 124 put a one per cent cap on compensation and benefits increases for Ontario public sector workers, including university faculty, for a three-year period ending Dec. 31, 2024.
If the union is successful in its bid, it would return to the bargaining table with Western in 2025.
---
UWOFA sets up strike headquarters
Nov. 11, 8 p.m.
The University of Western Ontario Faculty Association moved to their new strike headquarters on Wednesday. The office is located at 612 Colborne St. in downtown London.
According to realtor.ca, the office is 2,300 square feet with a large reception area, 12 offices, two washrooms, 12 parking spaces and an additional 500 square feet in the basement for storage. The rent listed is $4,495 monthly, including utilities.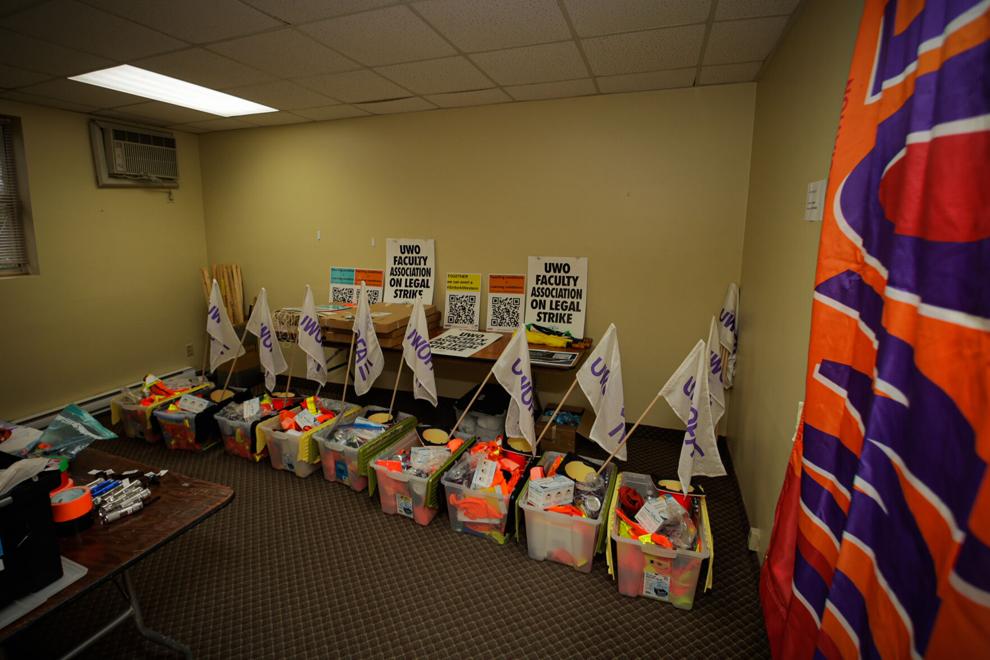 Only a handful of people were inside the former medical clinic at 2:30 p.m.. Each office had a dedicated department, including transportation, strike services, picketing and more. Inside were bins filled with orange vests for picket captains, flags, UWOFA pins and t-shirts and an ample selection of snacks.
UWOFA's on-campus office is located inside Elborn College, but the union will be at their new headquarters until a new collective agreement with Western University is reached.
---
Shepard 'optimistic' strike will be avoided, says keeping campus open 'depends'
Nov. 11, 4:25 p.m.
Western president Alan Shepard said he's "optimistic" a strike can be avoided at Friday's university Senate meeting.
Shepard also said campus staying open for students an community members in the event of a strike "depends on what's happening," in response to a question from Social Science student senator Emilie Kalaydjian. He highlighted the need to keep everybody "safe" as the school's priority and said there will be an update from the school provided later in the event of a strike.
Shepard also addressed concerns from faculty senators regarding Western's response to a potential strike.
Shepard said he "doubts" faculty would be locked out of their university emails in the event of a strike  as it's "not in [his] playbook." However, he cautioned he has never been this close to a strike in his experience as a university president and so could not provide a definitive answer. UWOFA has told faculty they will retain access to their emails in the event of a strike.
---
UWOFA says OWL content to remain posted, announces strike pay, shuttle service
Nov. 11, 3:40 p.m.
UWOFA has instructed faculty to keep all previously posted OWL content available to students in the event of a strike, though new content should not be released. The union's FAQ page, directed at professors, reads "please do not unpublish your [OWL] site."
Faculty will also retain access their Western email, Office 365, Zoom and library services in the event of a strike. The union is, however, recommending faculty remove items from campus they want guaranteed access to during a strike.
The FAQ page also confirmed UWOFA will provide strike pay of $175 a day — tax and deduction free — for faculty beginning on the fourth day of a potential strike. The Faculty Association anticipates $1 million in financial support from the Canadian Association of University Teachers Defence Fund in combination with reserves to support faculty participating in the strike.
Shuttles will be run between picket locations and strike headquarters at 612 Colborne St. for all faculty participating in a strike.
---
UWOFA confirms picket line locations
Nov. 11, 1:20 p.m.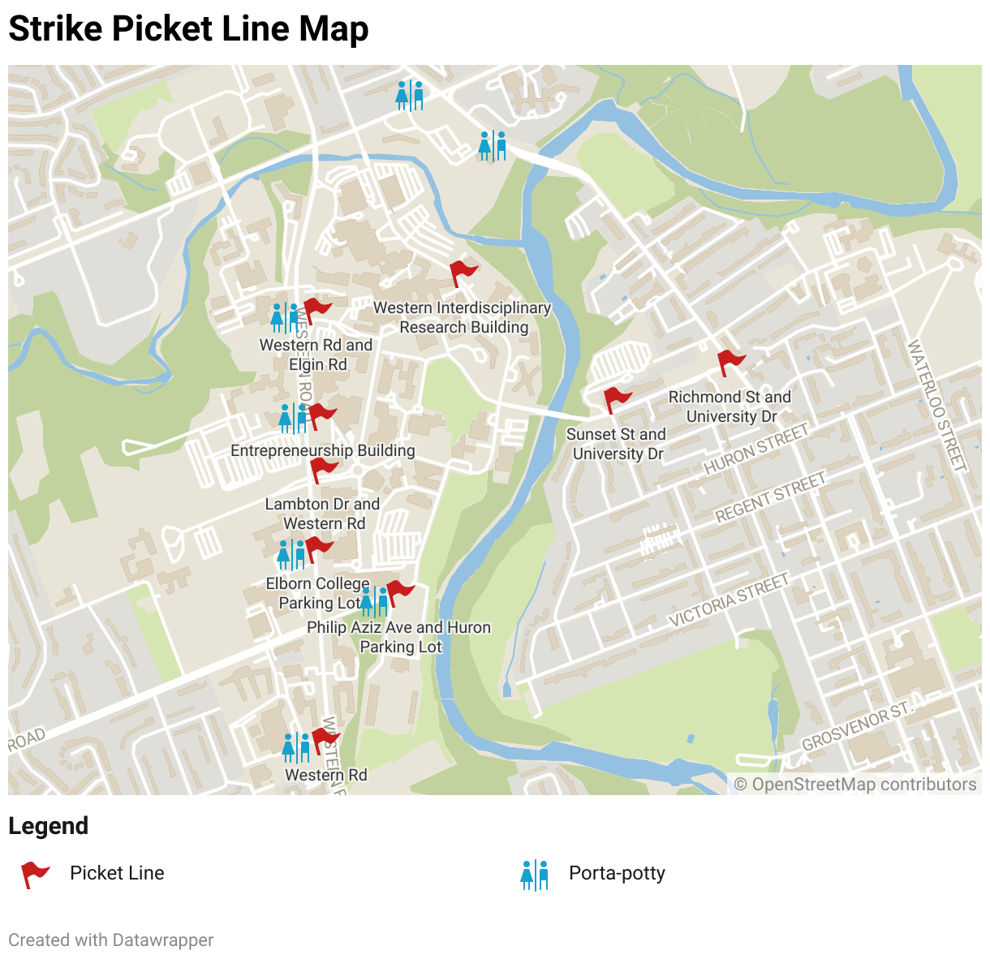 The University of Western Ontario Faculty Association has confirmed their picket line locations on their website on Friday.
In a graphic on UWOFA's website, picket lines will take place at various locations around the perimeter of campus, including the University Drive and Richmond Street, outside of Medway-Sydenham Hall, outside Peth Hall, near the Western Alumni Stadium parking lot and other locations.
The locations of the picket lines roughly align with the locations of various porta-potties installed by UWOFA around campus. Additional porta-potties were seen being installed Friday afternoon, UWOFA says they have ordered 12 total.
---
UWOFA set to strike Tuesday if agreement not reached
Nov. 10, 8:50 p.m.
The UWOFA's 1,800 faculty members will go on strike Monday at 11:59 p.m. if a new four-year collective agreement with Western University is not reached by then.
The union's Board of Directors voted on the deadline Thursday afternoon during its board meeting. The Tuesday deadline is a few days after the earliest legal date UWOFA could strike, which is midnight on Sunday.
UWOFA said that "despite some signs of progress" at the bargaining table their team "does not yet see a deal coming together."
The faculty union had already been preparing for a potential strike, setting up porta-potties at campus entrances, moving to a new off-campus strike headquarters and training "picket captains."
Strike deadline has been set for November 14, 11:59pm. https://t.co/YQ1LF260no

— UWO Faculty Association (@uwofa1) November 11, 2022
---
Ivey says Western campus to remain open in strike
Nov. 10, 8:50 p.m.
Ivey Business School's HBA program office sent an email to all HBA students Thursday, telling them that Western's campus will remain open in the event of a strike.
"Western campus, including the Ivey building will be open," the email from Ivey's director of HBA program services, Derek Worden, wrote. The email advises students to expect delays if they plan on coming to campus during the strike and "be courteous" with picketers.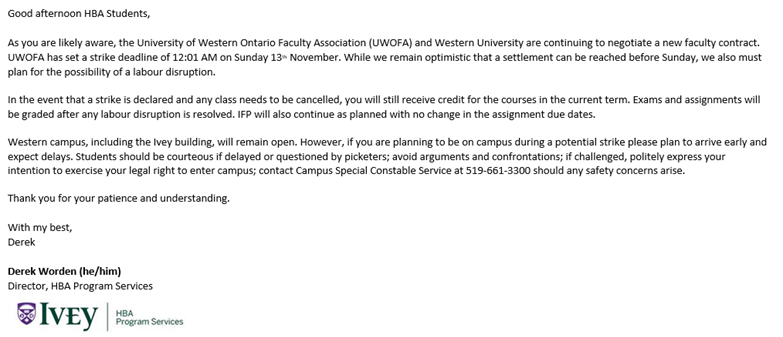 The email also outlines details on cancelled Ivey classes, saying the students "will still receive credit for the courses in the current term. Exams and assignments will be graded after any labour disruption is resolved."
HBA2's Ivey Field Project is not impacted by the strike with no change in assignment due dates.
---
 Video: Western's potential faculty strike explained

link