They thought they were buying into a low-rise community of six-storey apartments but now the developer has made an application to rezone a piece of the site for a 45-storey tower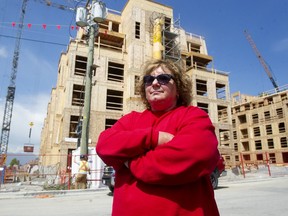 Article content
A group of Langley property purchasers are rallying to oppose a rezoning application in their development that proposes to switch out six-storey apartments for a 45-storey tower.
Article content
The development they bought into is Latimer Village, a community of townhouses and low-rise apartments, with a new park and school, at 200th Street and 82nd Avenue in Langley that was developed in accordance with the township's official community plan.
Just before a May 16 public meeting, owners began learning that the developer, Vesta Properties, had made an application to rezone a piece of the site for a 45-storey tower, the tallest building in Langley, in the place of what they thought would be more six-storey low-rise apartments like their own.
"We were sold this low-rise combination European-esque village of maximum six storeys and townhouses," said Janet Von Siemens, a purchaser who purposefully selected a top-floor corner unit during the presale in 2020. She moved in last September.
Article content
"I would overlook the pond and the six-storey condos, which I felt (wouldn't) affect me too much. Now I'd be looking at 45 storeys," said Von Siemens, who bought the apartment for her retirement.
Vesta submitted its rezoning application to the township in December, but even buyers in recent months weren't aware of such a major proposed change to the plan, including health-communications expert Andy Shen.
"Lots of people in the community are upset over this, and they have the right to be," said Shen, who will be moving into his townhouse in the coming weeks.
"Residents told me that they feel like they were betrayed, that they were misled," Shen said of conversations he had at the May 16 open house. "All of the (presale) information packages, even the city OCP, overall community plan, they all indicate that it's going to be six storeys."
Article content
Towers of 28 and 34 storeys were included as part of Vesta's overall Latimer Heights site, Shen said, but at the north end of the property closer to a transit hub, and they were part of the development from the start.
Shen and Von Siemens are part of a grassroots group trying to raise awareness of the change before the application goes to council for a public hearing, which hasn't been set.
Metro Vancouver's first-time homebuyers' guide

Buying a condo? Watch for these red flags in the strata minutes

Old, newer, or newest? The pros and cons of purchasing an older versus newer condo

10 terms first-time B.C. homebuyers need to know

Buying a home: 5 tips if you end up in a bidding war

Q&A: First-time homebuyers face sticker shock from hidden costs
Another townhome buyer who purchased a presale in April of 2021 only learned of the rezoning proposal from news coverage.
Article content
The buyer, who only wanted to go by the name Sean because he is worried about repercussions while his unit is still under construction, said he wouldn't have bought the unit, with a rooftop deck, for his young family if he knew it would be next to such a tall tower.
"If you want to build the tallest tower in Langley, you start with that as the main piece, the centrepiece of the project, not as an afterthought after everything is sold out," Sean said.
Vesta representatives declined to comment Wednesday, saying they plan to issue an open letter soon, likely next week. Company president Kent Sillars told the May 16 meeting that the proposed change will add 87 more units than the previously proposed buildings, which he called a relatively small addition to the project, Black Press reported.
Article content
He added that the tower would reduce the footprint of development allowing "more opportunities for green space, more amenities," Black Press reported.
Langley Township Mayor Jack Froese did not respond for a request for interview, but Coun. Eric Woodward, who is running for mayor in this October's elections, said he sympathizes with the buyers facing such a drastic potential change to the city's plan for the area.
To Woodward, Vesta's application, which was filed Dec. 24, 2021, feels rushed. Other developers have faced a longer wait to deal with applications asking for less density.
"Is it really appropriate to be processing an OCP amendment of this magnitude with only four council meetings left in the council term," Woodward said.
Article content
Woodward said he is "statutorily required to keep an open mind" on rezoning issues before public input, but he does have concerns about road and school infrastructure related to the development.
"I also want to point out this would be one of the most significant OCP amendment density increases in the history of the Township of Langley," Woodward said.
---
More news, fewer ads: Our in-depth journalism is possible thanks to the support of our subscribers. For just $3.50 per week, you can get unlimited, ad-lite access to The Vancouver Sun, The Province, National Post and 13 other Canadian news sites. Support us by subscribing today: The Vancouver Sun | The Province.


link