South Korean actress Kim Se Jeong's concert in Manila felt like a homecoming rather than her first solo tour in the Philippines, making fans want to stay at the venue all night.
Held at the New Frontier Theater on Sunday, October 1, 2023, Se Jeong had the opportunity to meet Filipino Sesangs, her fan club name, at the one-night show organized by Wilbros Live titled 2023 Kim Se Jeong 1st Concert: The 'Door'"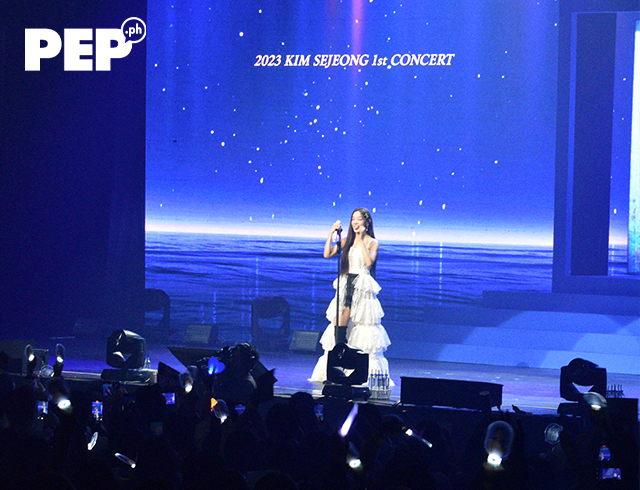 The event, spanning over two hours, treated fans to a mesmerizing evening filled with laughter, joy, and tears.
Here are the highlights of the concert:
KIM SE JEONG CAME PREPARED
Kicking off the show with a song called "Whale," Se Jeong serenaded Sesangs with hits like "Destiny," "Teddy Bear," and "Indigo Promise," among others.
It was hard to miss the enthusiastic fan chants from the crowd that echoed their deep appreciation, which the singer and actress acknowledged with sincere gratitude.
In her words, as translated in English, "Your cheer… is above the level…
"Please be my music, Sesangs."
To further convey her affection, Se Jeong delivered top-notch performances to the audience.
She even moved the fans to tears with her heartfelt message of gratitude for them.
As shown in a video, Se Jeong reminisced about her journey and growth, thanking her Sesangs for being a constant source of inspiration.
The Korean actress also encouraged fans to remember the joyous moments from the concert during difficult times.
She said, "Sesang, finally, today [has] come. You've really waited a long time haven't you?"
She continued, "Just when I started this recent work not long ago, the weather was hot but it has become cool and it's already time to prepare for winter.
"I started with the greeting 'Yes, I Love it! Hello, this is I.O.I' and went through 'Stand by Cue (Gyu)! Hello, this is Gugudan!' and now I greet all of you as 'Hello, this is Kim [Se Jeong].'
"Among the countless greetings, I've learned and grown so much, without Sesang who are sitting here right now, I couldn't have done anything.
"In my past days, my Sesang always greeted me anew with the same appearance.
"I hope I can give such an unforgettable today to Sesang."
She also told the audience, "When a tiring and hectic day [comes] one day, try to remember this day, and think how enjoyable it was, how fortunate I was to have Se Jeong and find a reason to smile even a little… just how my Sesang became my strength [every time] I was in need.
"Since we are already each other's Sesang [world], we won't lose our way to each other.
"During tough times, take a short break, and on some days, jump for joy, let us welcome the upcoming days together, with laugh and tears."
Her message to her fans ended with, "Thank you for being with me today and being my Sesang.
"Let us create an unforgettable today. With my heart, Se Jeong."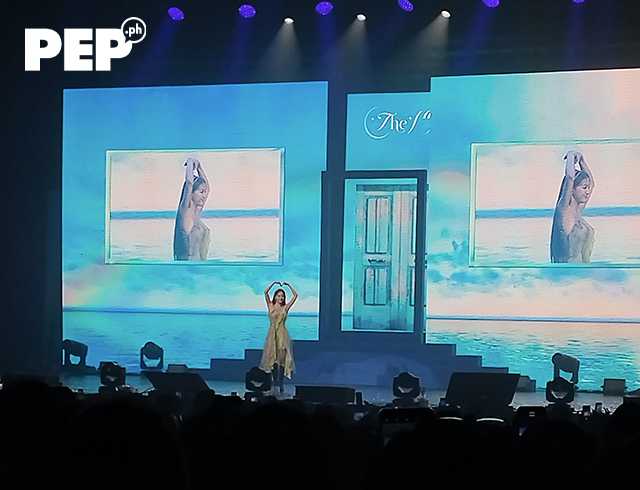 UNFORGETTABLE MANILA FAN MEET FOR SE JEONG
Following her unforgettable performance of "Voyage," Se Jeong was pleased to witness the all-out efforts of the crowd to cheer for her.
Overwhelmed with emotions, she said (as translated by her interpreter), "The cheer for 'Voyage' was really legendary…
"Grabe talaga. As time [passes] by, I should really come back here. I'm emotional."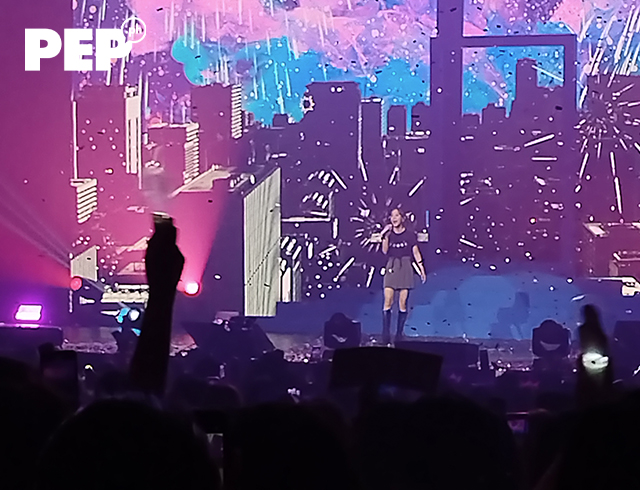 Between songs, Se Jeong interacted with her Sesangs and accepted song requests, which she performed acapella.
The Business Proposal and The Uncanny Counter star also engaged with the audience by asking them to do a wave-like movement with their light sticks.
Pinoy fans raised their lightsticks or mobile flashlights as Se Jeong walked from the right to the left side of the stage.
After recording the moment herself, she affectionately exclaimed, "You're the best!"
The fun continued as Se Jeong performed her hit songs which were used as themes for popular K-dramas including "Meet Again" from Uncanny Counter, "If Only" from The Legend of the Blue Sea, "All of My Days" from Crash Landing on You, and "Love, Maybe" from Business Proposal.
The audience could not contain their kilig especially during sweet scenes from Business Proposal that featured Se Jeong and leading man Ahn Hyoseop.
As the concert neared its end, a video that was made by her fans brought Se Jeong to tears.
"You [made] a video to make me cry. Why are you telling me not to cry?" she quipped.
Then Se Jeong reiterated, "Today is really a happy day."
Wrapping up the Manila leg of her tour, Se Jeong wandered around the venue, getting closer to her fans while singing "Let's Go Home" just before the hi-bye session for all her Pinoy fans.
READ MORE:
link