They've kept us hooked through the year with their unique storylines and endearing characters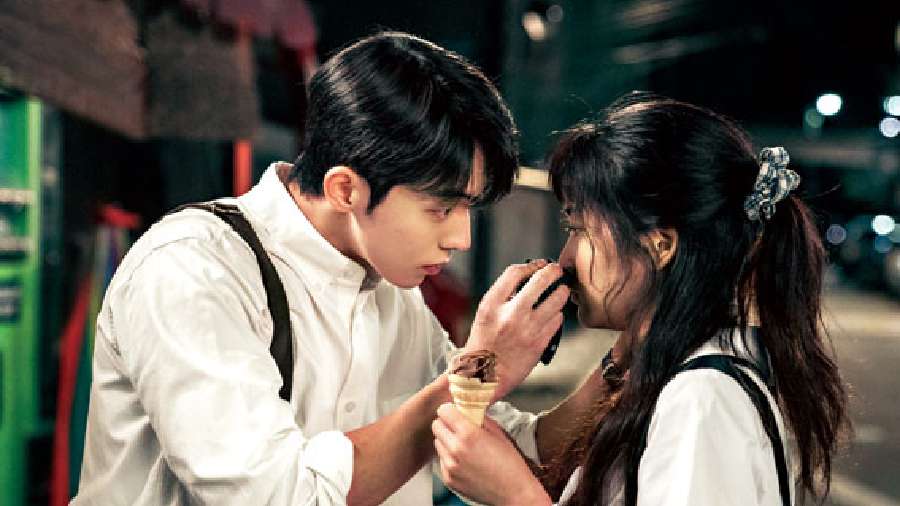 ---
  |  
Published 23.12.22, 02:35 AM
---
The popularity of K-dramas are at an all-time high since its rise during the pandemic. Last year, the Squid Games took the world by storm, and has now been cleaning up at award shows this year. K-drama fans are eagerly waiting for the second season to air. While you await that, here are the best K-dramas to watch this season. From romance to comedy and horror, our picks have got you covered.
TWENTY FIVE TWENTY ONE
Genre: Romance, nostalgia, drama
Episodes: 16
Streaming on: Netflix
This heart-touching teen drama ended up being one of the highest-rated dramas in South Korean cable television history. The heartfelt plot depicts the lives of five friends between the years 1998 and 2021. Kim Tae-ri won a number of accolades for her portrayal of the enthusiastic Na Hee do, a fencing champion who dreams of meeting her idol some day. The show also depicts the life of the male lead played by Nam Joo-hyuk, a television journalist whose family is battling the infamous IMF crisis. Their lives start to get better with each meeting.
SHOOTING STARS
Episodes: 16
Streaming on: Netflix
Shooting Stars is here to bring about happiness wrapped in romantic comedy. The show features two of the best known Korean actors today — Lee Sung Kyung and Kim Young Dae. The plot will keep you hooked as it follows an actor and the publicist who handles him as they navigate their love-hate relationship.
LITTLE WOMEN
Genre: Suspense, mystery, drama, thriller
Episodes: 12
Streaming on: Netflix
Loosely based on the novel by Louisa May Alcott, Little Women depicts the tale of three sisters who are poor, and how they get involved in a massive 70 billion case against the fiercest and the richest family of Korea. Jampacked with memorable portrayals of strong female leads, the play of power dynamics and the reflections on poverty make Little Women a must-watch.
EXTRAORDINARY ATTORNEY WOO
Episodes: 16
Streaming on: Netflix
Extraordinary Attorney Woo follows the life of the brilliant Woo Young-woo, an attorney with autism. She gets hired by a major law firm in Seoul. Her co-workers find her working and communicating style odd but her charisma, intelligence and photographic memory makes her a more competent and successful lawyer with each legal case. Because of its unique and extraordinary plot, it is one of the highestrated dramas in South Korean cable television history.
ALCHEMY OF SOULS
Genre: Romance, fantasy, action
Episodes: 24
Streaming on: Netflix
This trending show will sweep you off your feet with its dynamic storytelling. The female lead bears the superpower of soul-transferring and ends up transferring her soul into a weaker girl. The challenges she and the male lead face, make the storyline unique, especially when she ends up being his servant. This is a show for those looking for a little of everything — history, comedy, romance and fantasy.
ALL OF US ARE DEAD
Episodes: 12
Streaming on: Netflix
All of Us Are Dead is a coming-of-age K-drama showing how high schoolers are left to battle a Zombie apocalypse after a failed science experiment. They are helpless and left to battle the situation all by themselves. This tale of the struggle of survival will keep you hooked as each high schooler battles the apocalypse else they become part of the infected. There is romance, horror, thrill, betrayals and friendships all in one. Season 2 is on the way.
GHOST DOCTOR
Genre: Medical drama, fantasy
Episodes: 16
Streaming on: Netflix
Ghost Doctor is a curious tale. Cha Young-min is an arrogant but highly skilled cardiothoracic surgeon, while Go Seung-tak possesses good medical knowledge but is scared of blood. Due to unexpected scenarios, two doctors of completely different personalities and medical abilities merge into one. The real life lessons intertwined with the fantasy narrative make Ghost Doctor a must-watch.
TOMORROW
Episodes: 16
Streaming on: Netflix
Tomorrow is a unique fantasy tale where a young man tries to save a life but ends up in an accident and goes into coma. He's now left dodging between being half human and half spirit. The lead ends up working on the crisis management team. The show clearly brings out the silent struggles of the different characters and the hardships they endure. The story revolves around different plotlines.
BUSINESS PROPOSAL
Episodes: 12
Streaming on: Netflix
An adaptation from the web novel Office Blind Date, Business Proposal is a perfect romantic drama to watch this season. Kang tae Mu is a wealthy CEO of a company. His blind date dodges the date and sends in her best friend to scare him off with her crazy persona. However, quite the opposite actually happens. He offers her a proposal, but she soon discovers he is her boss.
JUVENILE JUSTICE
Episodes: 10
Streaming on: Netflix
This K-drama revolves around an elite judge who desires for justice to be upheld, especially that against juvenile offenders. The plot is so well written as it reflects on social realities by mirroring someone's reality in a heartbreaking way. Actress Kim Hye-soo takes charge as the prickly female lead who is absolutely intolerant to any obnoxious behaviour. The fierceness of Kim Hyesoo's character Shim Eunseok is definitely here to serve justice.

link