LOUISVILLE, Ky. (WDRB) – The enrollment boundary for Atherton High School in an expansive student assignment overhaul proposed in March may change based on feedback Jefferson County Public Schools has received thus far, Superintendent Marty Pollio said Tuesday.
That was among several topics raised during discussion of the proposed "choice zone" schools, dual resides areas in neighborhoods near Louisville's West End and central business district, and school feeder patterns at Tuesday's Jefferson County Board of Education meeting.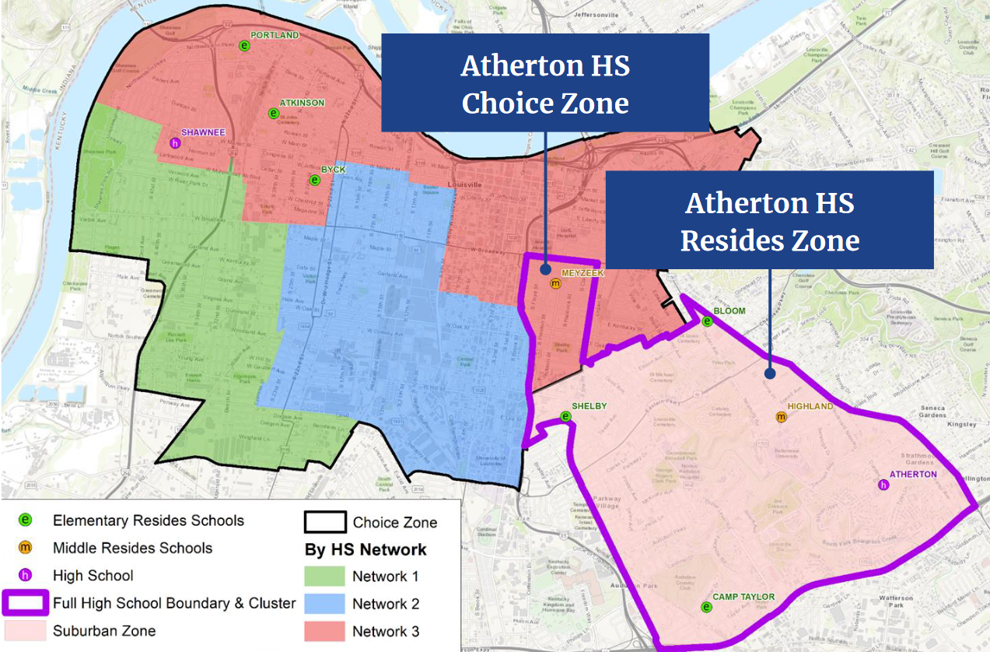 Pollio said Atherton's enrollment boundary, like others in the proposed student assignment plan, largely follows major roadways in Jefferson County.
For Atherton's proposed enrollment boundary, that means moving southwest closer to Interstate 65 and away from Interstate 64. Instead of Bardstown Road running through the middle of the school's boundary, the proposal calls for Bardstown Road to divide Atherton's and Waggener High's enrollment zones.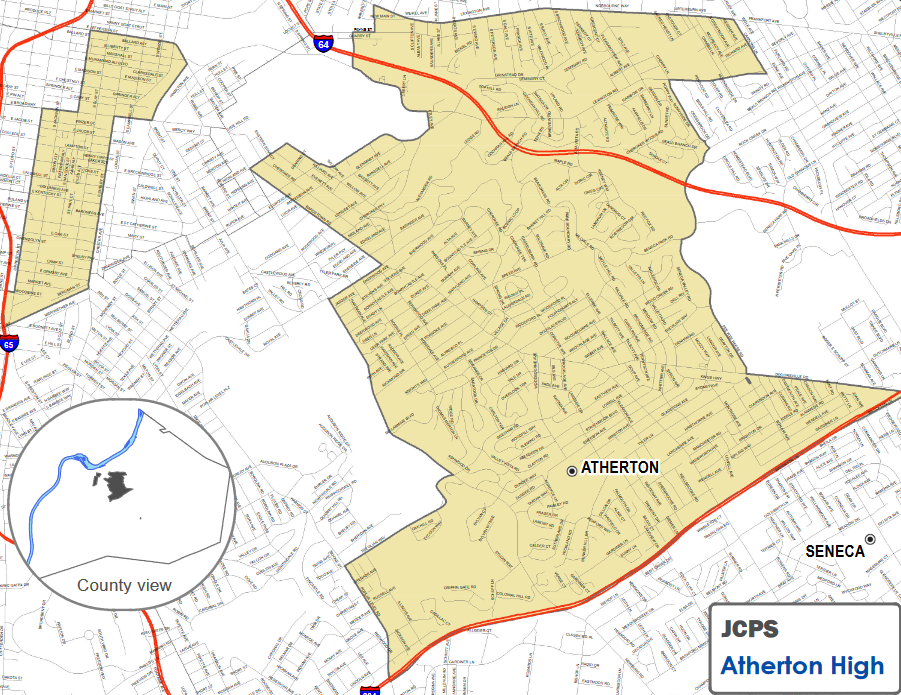 However, Pollio and District 2 board member Chris Kolb said they have heard from people upset about the proposed change.
"I hate to ask you to do yet another community forum, but it's probably worth looking at possibly doing one at Atherton to talk to families directly about it and see if there's any kind of specific things that people have noticed that maybe we haven't considered yet," said Kolb, who noted that he is "strongly in favor" of the proposed student assignment revisions.
Pollio said a consultant working with JCPS is "working on some potential changes" to Atherton's enrollment boundary, which has been brought up "often" as the district gathers feedback on its proposed student assignment plan. "A significant number" of homes are just across Bardstown Road and within walking distance of Atherton, Pollio said, noting that the district must balance student enrollment and avoid dividing neighborhoods by enrollment boundaries in the new plan.
"When you have a family that can walk across the street, that makes sense that the family would want to go to that school," he said.
Pollio also wants the board to consider codifying in policy investments to the proposed "choice zone" schools and the district's high-poverty schools. The district envisions spending $2.5 million for the Academy @ Shawnee, $2.5 million for a new west Louisville middle school and $7 million split among Atkinson Elementary, Breckinridge-Franklin Elementary, Byck Elementary, Cochran Elementary, Engelhard Elementary, Kennedy Elementary, King Elementary, Maupin Elementary, McFerran Preparatory Academy and Portland Elementary every year from proceeds of a 7-cent property tax rate increase passed in 2020.
Additional money for the schools would be used for academic supports, smaller class sizes, technology, more pay for teachers at those schools under the district's proposed student assignment plan.
Pollio suggested earmarking portions of future tax increases for high-need schools and codifying that into board policy.
"We do need to put into policy ways to say a certain percentage of additional revenue that is approved by this board would be dedicated to resourcing our high-poverty schools," he said.
Pollio also floated the possibility of adding policies to audit whether JCPS is spending money to support high-poverty schools as laid out in the student assignment proposal and to track academic outcomes to ensure that financial support is impacting learning.
"Can a future board change policy? Yes, but we also know what a future board or superintendent has to do in order to change policy, which is do it publicly at a publicly held meeting," Pollio said.
The Jefferson County Board of Education is expected to vote on changes to the district's student assignment plan by June at the latest. Pollio said the board would hear more details of the proposed changes to the district's magnet programs at its next meeting. The board has a work session scheduled on April 26.
JCPS is gathering feedback on proposed changes to its student assignment plan at this link.
The district also has public forums scheduled for 6 p.m. Wednesday at Ballard High, 6 p.m. Thursday at Marion C. Moore, 6 p.m. April 20 at Valley High and 6 p.m. April 21 for a virtual town hall hosted on the JCPS YouTube channel.
Copyright 2022 WDRB Media. All Rights Reserved.
link