Australia's higher education system is, more or less, focused on training people who will work for others' companies. This "employee mindset" leads students to have a vision of being recruited as an employee in a good company after they graduate. It can stop students from thinking outside the box and so becomes an obstacle to entrepreneurial innovation.
The GUESSS Project (Global University Entrepreneurial Spirit Students' Survey) reports on entrepreneurial aspirations and students' underlying drivers of this career choice in more than 50 countries. The 2018 GUESSS Global Report found only 9 per cent of all students intended to become an entrepreneur right after they completed their studies. This figure had risen to 17.8 per cent of students by the time of the 2021 GUESSS Global Report.
In Australia, the share of direct intentional founders (students who intend to be entrepreneurs right after their studies) rose from 9.1 per cent in 2018 to 16.1 per cent in 2021.
Such a significant shift in three years calls for higher education institutions to respond to students' entrepreneurial intentions. It points to a need to offer curriculum that helps develop their entrepreneurial skills.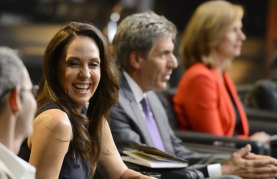 Recent research has shown entrepreneurship education can boost students' creativity and entrepreneurial capability, thus supporting their entrepreneurial aspirations. Another study found "a statistically significant relationship between management students' entrepreneurship education, attitude towards entrepreneurship and entrepreneurial intention". The researchers urged universities to provide training modules for students with an interest in being entrepreneurs.
According to the 2018 GUESSS report, universities can play a significant role when it comes to entrepreneurship. The 2021 GUESSS report sheds more light on this with the finding:
"Entrepreneurship education and the entrepreneurial climate at the university are key determinants of entrepreneurial intentions and activities."
The report also notes: "The ventures run by the students are mostly very young and very small. Still, the entrepreneurs are rather happy with their performance."
In response to this gap in the curriculum, we developed an initiative in the postgraduate project management course at Victoria University. Working with Michael Jackson, a previous graduate who became an entrepreneur and established two project management firms before retirement, we created a project that required students to work in groups to develop a proposal for a project management start-up. The group approach was consistent with the findings of the 2021 GUESSS report, which said:
link