The Warrenton Planning Commission will hold a public hearing Tuesday evening and possibly vote on whether to recommend the Town Council approve Amazon Web Services' application for a special use permit to build a data center on their property behind the Country Chevrolet in Warrenton.
FauquierNow has constructed a timeline – based on official public documents from the town, FOIA documents obtained by the Piedmont Environmental Council and our own reporting – dating back to when the town first discussed changing its zoning laws to holding a public hearing for a data center application.
January 2016
The council established several incentive zones, including technology, defense production and tourism, in which certain types of businesses would be able to apply for tax rebates.
July 11, 2017
The Warrenton Town Council asked staff to "examine changes to the Zoning Ordinance" that "may assist in bringing economic development within its boundaries," including "technology businesses."
The resolution read: "The Town Council of the Town of Warrenton directs [staff] to analyze and prepare a text amendment to the Town Zoning Ordinance to include new uses either as 'by right' or as a special use permit to expand the list of uses to include new possible technology industries on the Industrial Zoned land."
According to Kelly Machen, zoning administrator for the town of Warrenton, "there has been an industrial zoning district category since the first Town of Warrenton Zoning Ordinance was adopted in 1955."
She said the district name and the parcels associated with the industrial district have varied over the decades but became labeled "I, Industrial" district in 2006.
There are currently three light industrial or "I" zoning districts within the town limits: one between U.S. 17, U.S. 29, and Blackwell Road; one between Alexandria Pike, Walker Drive, and East Lee Street; and one between Old Meetze Road, U.S. 17, and U.S. 15.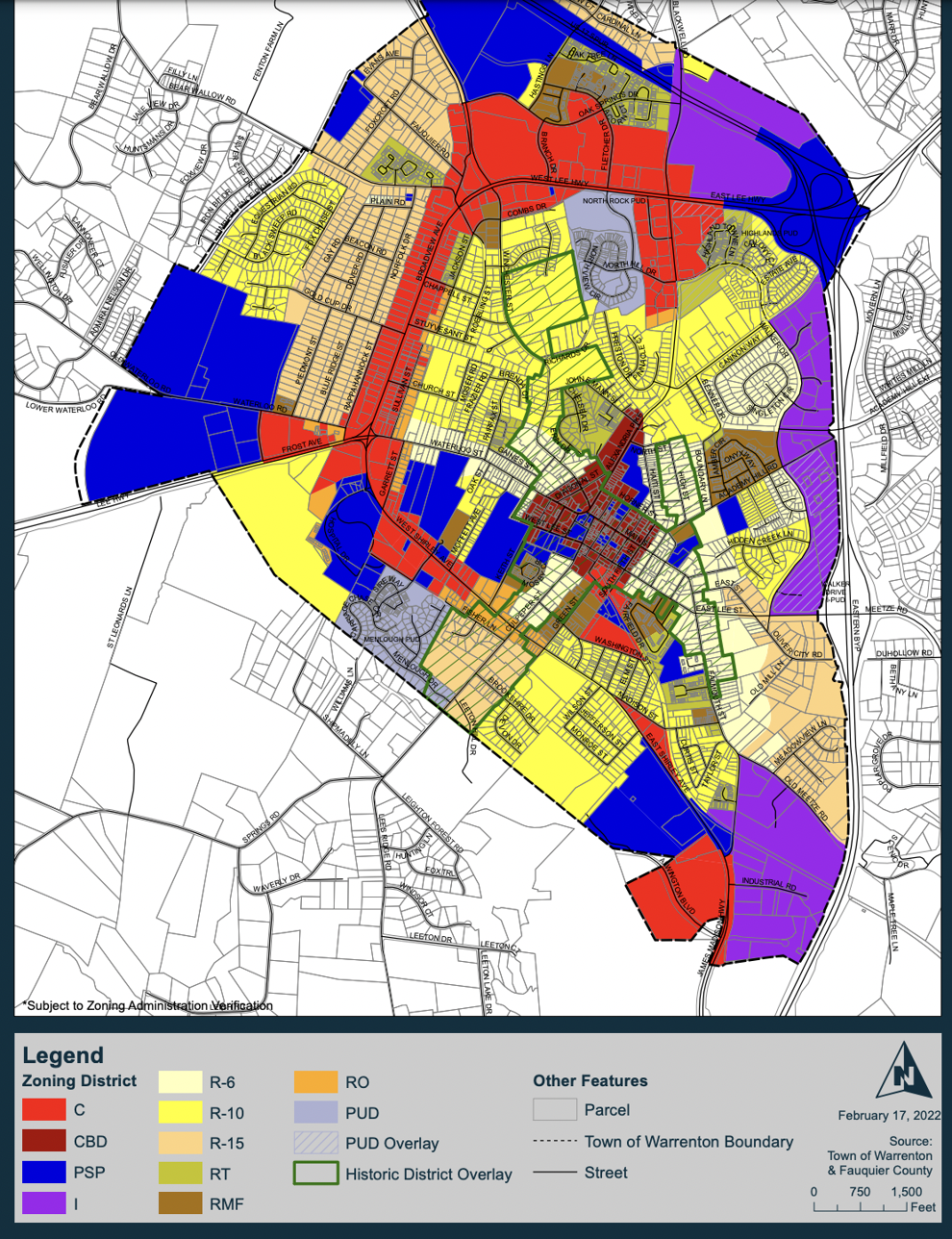 April 13, 2021
The council unanimously approved its consent agenda, which included a resolution directing staff to "analyze and prepare a text amendment to the Town Zoning Ordinance to amend the current I District Regulations."
The council approved the 2040 Comprehensive Plan 6-1.
Three light industrial zoned parcels in Warrenton, including the parcel behind the Country Chevrolet – previously owned by Weissberg Investment Corp – were previously zoned industrial before the adoption of the comprehensive plan.
The only mention of data centers in the comprehensive plan was on page 70 under the subsection labeled "light industrial," which read: "Environmentally heavy uses that draw significant water, like data centers, are better served in locations not utilizing public water and sewer."
May 25, 2021
The Warrenton Planning Commission held a work session on the proposed data center text amendment.
According to the minutes, Rob Walton, director of community development, "advised staff has received some interest for a data center in the I district, and the amendment would only apply to that district at this time."
Planning Commission Vice Chair James Lawrence "questioned why [the council] would like the commission to consider a data center when there is not an applicant seeking approval."
Denise Harris, planning manager for the town of Warrenton, said "the question comes up quite often, and council would like to be able to provide answers."
Walton said data center applicants "prefer to remain anonymous as long as they possibly can, and that is why the [council] has asked staff to take a look at a text amendment."
June 15, 2021
The Warrenton Planning Commission held a public hearing on the proposed data center text amendment.
Attorney John Foote, representing Amazon, told commissioners about the tax benefits and needs for the data center industry to expand out of Prince William and Fairfax counties.
Foote estimated annual tax revenue would be between $3 and $4 million for both the town and county. He said Prince William and Fairfax counties are "running out of space."
"Data centers are now telling us they need 10 years of known available resource land in order to maintain the supply of [data centers] in order to meet the demand that is growing on a daily basis," Foote said.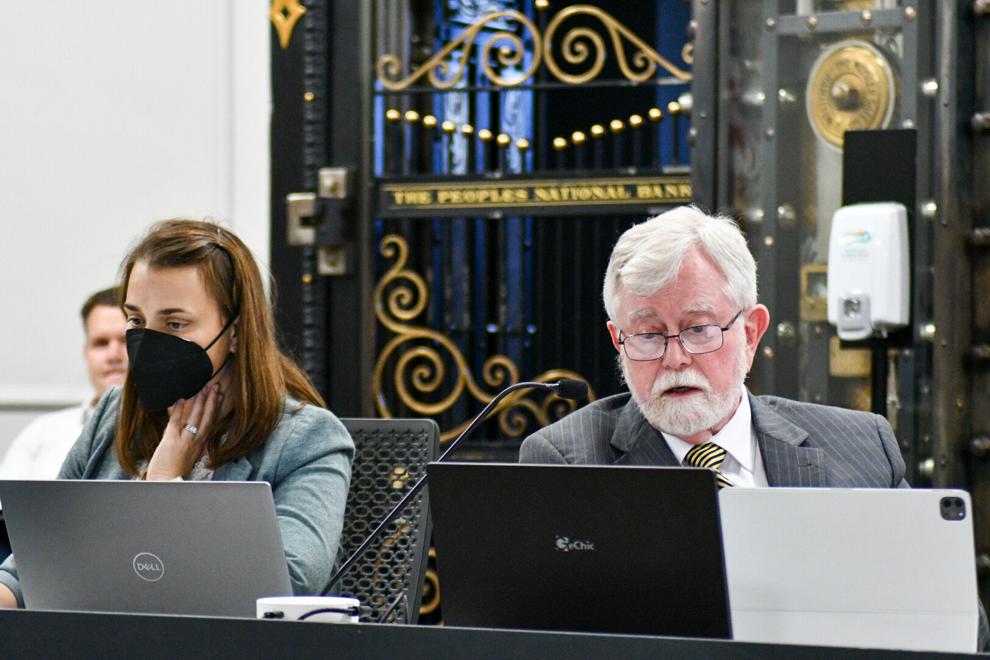 Foote said his client, Amazon Web Service, had "a contract on the Weissberg property" and was authorized to file an application for a special use permit to build a data center on the property as soon as the town approved the text amendment.
Foote said regardless of what the town decides, this problem is "not going away," and more applications to build data centers are coming.
The commission voted unanimously to defer a vote on the text amendment for 30 days.
June 17, 2021
Amy Vetal, data center supply solutions for Amazon Web Services, sent an email to Walton with the subject line "Data Center Text Amendment."
Vetal mentioned she and Walton had previously discussed plans for the Weissberg property. She asked to set up a time to "further discuss the text amendment to allow for data center use in the Town of Warrenton" and noted that "time is of the essence."
Becky Ford, economic development department at AWS Infrastructure Global Expansion, asked to meet with Walton, former Town Manager Brandie Schaeffer and Machen to discuss in person the Weissberg property "and our interest in partnering to align our investment with Warrenton's goals for economic growth and community development."
June 25, 2021
Ford forwarded Walton a non-disclosure agreement (NDA) via email to sign. She asked Walton to sign before the meeting with town staff June 28 to discuss details of the project. 
Walton and Kelly Machen, town zoning administrator, both signed NDAs the same day, ahead of the meeting. 
July 20, 2021
The Warrenton Planning Commission held a public hearing on the text amendment and voted 5-1 recommending approval of the text amendment that would allow data centers to be built in the I District with a special use permit.
According to a staff memo the text amendment was prompted after the town was approached about two potential sites for future data centers. The first site was a 27-acre parcel, which was previously the site of an old wire factory, at 615 Falmouth St, and the second was the Weissberg property behind the Country Chevrolet.
During the hearing, Lawrence voiced support for data centers generally, saying he believes there are strong tax benefits to data centers.
"I feel a fiduciary duty to allow the township to consider that benefit with the understanding that we're approving this, but any future data center that was going in would have to be put forth with a special use permit request," Lawrence said.
Commissioner Ali Zarabi opposed the amendment, noting he did not feel data centers fit with the recently passed comprehensive plan.
Commissioner Steve Ainsworth said he did not support data centers but would vote to approve the amendment to let the town residents decide whether they want a facility and its tax benefits in the future.
Aug. 10, 2021
The Warrenton Town Council voted to approve data center text amendment 7-0.
Mayor Carter Nevill clarified during the meeting, "We're not here to weigh the merits of any particular special use permit."
Town Council Vice Chair James Hartman said "each application will be weighed and considered on its merits," but that a data center is "an acceptable use" for the light industrial district.
Council member Kevin Carter said the council has been debating the data center issue for "many years" and looked at several other uses for the zoned industrial areas. 
"It seems to me that there are worse uses than this," Carter said. 
Carter noted he had heard from many constituents who have cited concerns about data centers but said he "thinks the technology has improved dramatically since 2013 and will continue to [improve]." 
Council member Renard Carlos said he wants to "keep in mind the concerns of residents as we continue the conversation." But he said he thinks Warrenton should lean into the technology private sector.
"To me, the text makes sense to lean into this and again … going forward to judge each case on its merits and the impact that it would have on the residents but certainly to start trying to position Warrenton in a way they can be competitive with other localities, I think is a good idea," Carlos said.
Nevill said the town has gone to great lengths to address concerns about noise, buffering and other issues. 
Semple added there are "appropriate safeguards" in place to protect residents from noise and other issues that may arise. 
Supplemental use regulations passed by the council on Aug. 10 meeting, included:
Sept. 20, 2021
The town of Warrenton sent Amazon a zoning confirmation request letter for GPIN 6984-69-2419-000 indicating that a data center was permissible with the approval of a special use permit from the Town Council.
Sept. 27, 2021
Amazon completed a $39.7 million purchase of the Weissberg property.
Oct. 21, 2021
Amazon's attorneys send a data center pre-application for a special use permit to the town staff.
Supervisor Chris Butler emails Jeanne Underwood, Northern Virginia external affairs liaison for Dominion Energy, and copies Schaeffer.
Butler asks for a meeting with Dominion to discuss the Amazon data center project and its power needs. He asks about whether the Opal substation is needed for the data center sites in Lee District and Warrenton.
Jan. 7-14, 2022
Underwood set a meeting with Butler, Schaeffer and others for Jan. 18, 2022, to discuss routing for the transmission line and substation.
In an email to Schaeffer, Underwood asked that the first half of the meeting be designated to discuss routing options and the second half of the meeting would include AWS.
Schaeffer tells Erin Kozanecki, deputy county administrator, that she does not have plans to have politicians in attendance at Jan. 18 meeting with Dominion.
It is unclear what was discussed at this meeting or who attended.
April 14, 2022
Dominion Energy shared a proposal with the Fauquier Board of Supervisors to build a substation behind the Country Chevrolet dealership in Warrenton and construct transmission lines – either above or below ground – that would connect the proposed electrical facility to one of two other substations in Fauquier and Prince William counties.
Stephen Precker, a communications consultant for Dominion, told supervisors the construction of a transmission line and substation would help to alleviate "overloaded infrastructure" and accommodate the power needs of a potential future growth, including data center(s).
Scott District Supervisor Holder Trumbo told Precker he believes the company had an "uphill battle" with this project.
"I think folks are going to really be very concerned about this, to say the least," Trumbo said.
Former Center District Supervisor Chris Granger said a substation would provide more opportunities for economic development around Warrenton and create an influx of non-resident tax dollars for the county but fell short of fully endorsing Dominion's proposal.
"We're pretty much tapped out, which has always been kind of a limiting factor to commercial and industrial growth in and around Warrenton," Granger said.
Granger later announced, in July, he would resign after his wife, Schaeffer, left the town and went to work for Amazon. Granger said he resigned because of the possibility there could be a future conflict of interest if the tech company were to propose building a data center in the county. Granger officially resigned Aug. 11.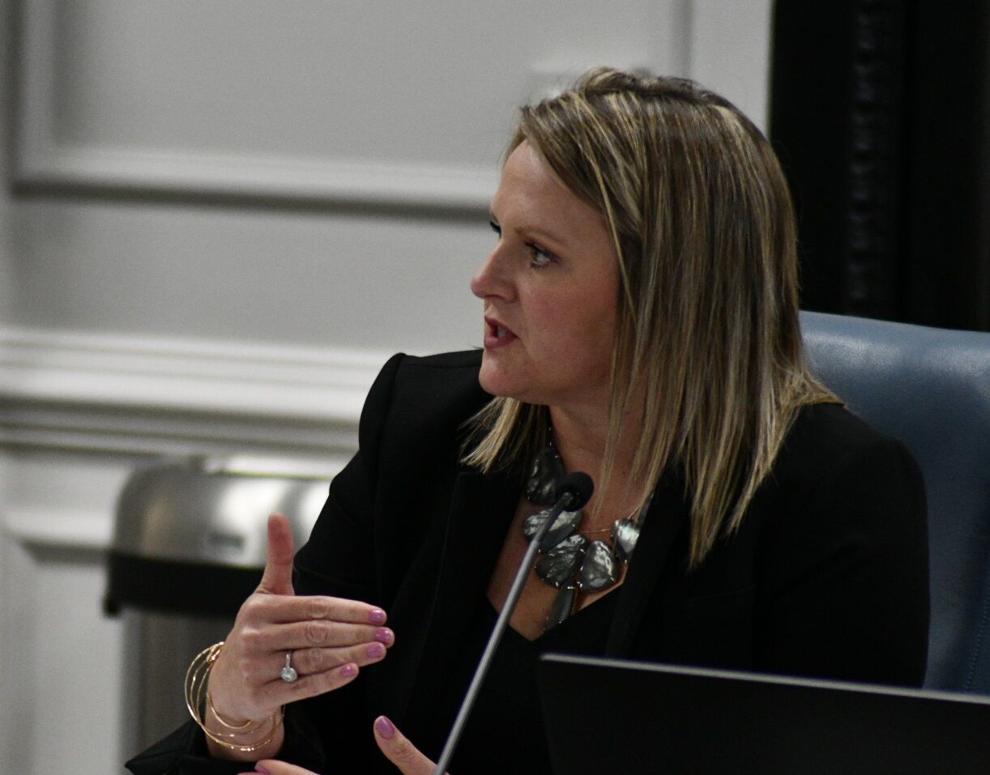 April 22, 2022
Amazon filed a special use permit application to build a 220,000-square-foot data center behind the Country Chevrolet.
July 26, 2022
The Warrenton Planning Commission had its first work session with Amazon to discuss the company's proposal to build a data center.
Foote said Dominion and Amazon's proposals are separate projects.
Aug. 10, 2022
The local citizen group Protect Fauquier and nonprofit organizations Citizens for Fauquier County and Piedmont Environmental Council hosted a community town hall to highlight the groups concerns regarding the proposed Amazon data center. Opponents have argued a data center is not an acceptable use for the property.
Sep. 8, 2022
Dominion announced it planned to delay filing its application to build a 230 kV transmission line with the State Corporation Commission until 2023.
Precker, the communication consultant for Dominion, told supervisors the data center could be powered using distribution lines instead of transmission lines.
Sep. 9, 2022
Amazon updated its application with noise and tree studies.
A tree study conducted by the Chantilly-based environmental consulting firm TNT Environmental showed that many of the trees surrounding the data center would be removed for construction. The majority would be removed along the western edge of the property.
The noise study was inconclusive as to whether it meets the town's noise requirements laid out in the 2040 Comprehensive Plan.
Oct. 25, 2022
During its second work session with the Warrenton Planning Commission, Amazon announced it would share the cost of building underground distribution lines from an unspecified substation with Dominion.
Oct. 26, 2022
The local citizen group Protect Fauquier and nonprofit organizations Citizens for Fauquier County and the Piedmont Environmental Council hosted a second community town hall on the impact the proposed Amazon data center could have on the town and county.
Oct. 28, 2022
Amazon submitted an updated application with several changes, including the following:
-Amazon offers to agree to a 'Condition of Approval' requiring the company demonstrate the noise generated by the data center meets town requirements upon approval of the special-use permit.
-Amazon agrees to fund ungrounding electrical distribution lines from any future substation and confirms no substation will be built on the property.
-Amazon agrees to host job fairs and advertise employment opportunities to town residents interested in employment at the data center. The outreach must be done no less than six months before the completion of construction of the data center.
-Amazon agrees to ensure coordination between company personnel and Fauquier County School Division (grades k-12) and Laurel Ridge Community College to establish and maintain educational/workforce development programs "for career pathways in data center construction and operations, and such other programs as the parties may deem mutually beneficial."
A staff analysis demonstrated the Warrenton Real-Estate Tax is $0.0401 per $100 and Business Property Tax is $1.00 per $100. Contractors are assessed at a rate of $0.085 per $100 per gross receipts during construction. Staff says state law prohibits local tax officials from divulging applicants' personal property and business property tax information.
What's next?
Once the Warrenton Planning Commission votes on Amazon's application, it will then go to the Town Council for a vote as early as December. 
____________________
Clarification: A previous version of this article stated that the former chair of the Fauquier Board of Supervisors, Chris Granger, supported Dominion's proposal to build a substation on the corner of Blackwell Road and Lee Highway. Granger, in a Nov. 15 message to FauquierNow, said the quote in question was referencing bringing more power to Warrenton in general.
link