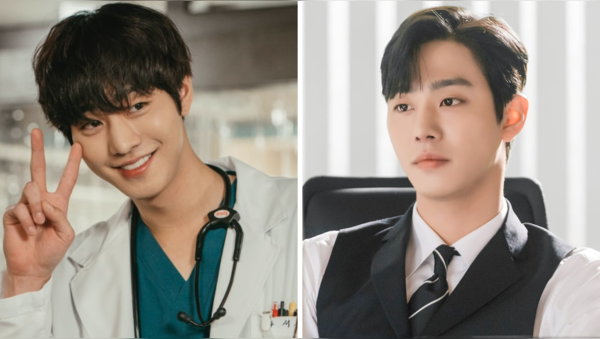 5 K-dramas Starring Ahn Hyo-seop
KEY HIGHLIGHTS
Ahn Hyo-seop stole our hearts as CEO Kang Tae-Moo in A Business Proposal!
Want to bing-watch more K-drmas starring the actor?
From Top Managment to Abyss, check out 5 of his best K-dramas!
Let's all admit that Ahn Hyo-seop stole our hearts from the moment he walked in as Go Food CEO Kang Tae-Moo in A Business Proposal! Still can't get him off your mind ? Well, check out these 5 amazing K-dramas starring the talented and stunning actor!
Dr. Romantic 2
Before he became a global heartthrob thanks to his role in A Business Proposal, Ahn Hyo-seop made a mark with his portrayal of Woojin in Dr. Romantic 2! Playing the role of a surgeon alongside Han Suk-kyu and Lee Sung-kyung, the actor often describes this as one of his most special roles. Directed by Yoo In-shik, the popular K-drama was released in 2020 and is currently available on Viki.
Lovers Of The Red Sky
Ahn Hyo-seop won many hearts and accolades with his portrayal of a red-eyed astrologer who loses his eyesight in a childhood accident, following which he embarks on a dangerous mission to exact revenge on the royal family that caused the tragedy. Check out the series on Viki!
Abyss
Despite dying in separate accidents, prosecution lawyer Go Se-yeon, played by Park Bo-young, and wealthy heir Cha Min, portrayed by Ahn Hyo-seop, are brought together by a mystical marble in completely different bodies to find out the cause of Se-yeon's death. With a perfect blend of mystery, fantasy and romance, Abyss is a must-watch series! Ahn Hyo-Seop's performance in this Netflix series was so stellar that it earned him a nomination for Best New Actor at the 12th Korea Drama Awards in 2019.
Still 17
Still 17 was Ahn Hyo-seop's big break! Following the story of a young violinist, Woo Seo-ri, on the lookout for her family after she slips into a coma at 17 and wakes up at 30, the show stars Shin Hye-sun and Yang Se-jong in lead roles. However, Hyo-seop captured viewers with his portrayal of Yoo Chan, an enthusiastic and energetic boy who is committed to protecting Seo-ri.
Top Management
Cha Eunwoo and Ahn Hyo-seop in one frame? You've just got to watch it now on YouTube! Following the challenges of making it big as a K-pop idol with a couple of mystical twists, the web series also highlighted Ah Hyo-seop's stellar singing skills!
So, which Ahn Hyo-seop K-drama is your favourite? Let us know!
link